Alternatives to walking your cat on leash: carriers and strollers
---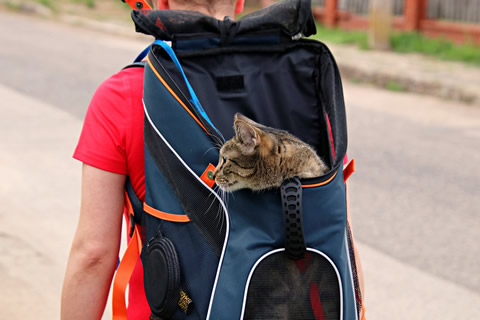 ---
The most obvious way to take your indoor cat outdoors for walks is to walk your cat on leash. However, there are two reasons you might want to explore alternatives.
You already walk your cat on leash but you want to combine that with alternatives.
Walking your cat on leash is just not an option for you and your cat.
The alternatives I'm about to mention don't require your cat to do any walking. In other words, you won't be walking your cat, you'll be taking your cat with you on your walks.
Although you won't have to teach your cat to walk on leash with these alternatives, you'll probably want to get your cat used to wearing a harness on your walks so that you can secure the harness and keep your cat from running off unexpectedly.
Pet Carriers
Although you could carry your cat in a typical travel carrier, you probably wouldn't want to do so on a regular basis. There are two types of carriers that are designed specifically for walks or hikes.
a pet sling carrier
a pet backpack carrier
Pet Sling Carriers
A pet sling carrier is generally worn over your shoulder and across the front of your body though some can be worn on the side as well. Your cat sits or lays in the sling.
It's not only a more comfortable and secure way of carrying your cat than holding your cat in your arms, but it also frees up your hands to a great degree.
One style of pet sling carrier secures your cat within the pouch with his or her head poking out of it.
adjustable shoulder strap to make it comfortable for you
adjustable head opening to make it comfortable for kitty
velcro or snaps to keep the zipper zipped
a small leash within the pouch to attach to your cat's harness as an extra measure against running off
The more traditional style of pet sling carrier is more open. Your cat is less constrained and there's more room inside.
a reversable design so it can be used inside out as well
a leash to secure to your cat's harness
extra pockets to carry things
adjustable shoulder straps
Pet Backpack Carriers
Though a sling carrier provides a more intimate experience with your cat, a backpack carrier allows a more hands-free experience for you. In fact, you can even take your cat for a ride on a bike using one.
If your looking for an easy way to carry your cat from time-to-time when leash walking then the sling carrier may be what you're after. If you're looking to do some more serious walking and hiking then a backpack carrier may be the better fit for you.
There's quite a variety of backpacks and features to choose from.
Breathable Pet Backpack Carrier

The above backpack is inexpensive, has good airflow, allows your cat good viewing, has storage pockets, folds flat for storage, has a tether for attaching a harness, adjustable straps, and a washable pad for your cat to sit on.
Traditional Pet Backpack Carrier

The backpack above has all the features of the 1st backpack but in a more traditional design.
A popular design that incorporates a transparent back, the above backpack allows you to expand the back when it's sitting on the ground to give your cat more room when not walking. You can also get a version where the capsule portion is expanded to fit a larger cat or simply give your cat more room when you're walking.
Expandable Pet Backpack Carrier

Also expandable, the above backpack has a more traditional back, can hold up to 18 lbs., and has both chest and waist buckles to better secure it to your body.
Many backpacks are also airline approved. Some have multiple uses.
Multifunction Pet Backpack Carrier

The above backpack has a detachable trolley that allows it to be pulled on wheels like luggage.
Pet Strollers
A pet stroller is very similar in concept to a stroller for a child. The big difference is that it's also an enclosure that keeps your pet from running off and, for cats in particular, offers some sense of security from the outside world.
Pet Stroller Features
Four Wheels vs. Three Wheels
There are both three and four wheel models of pet strollers. Basically, the three wheel model is easier to turn but the four wheel model is more stable and less likely to tip.
Mesh Viewing Areas
Ideally, look for four areas where there's mesh for looking in and out of the stroller.
For your cat to look out front while sitting or standing.
For your cat to look out front while laying down.
For your cat to look out back.
For you to look in while pushing the stroller.
Entry Ways or Openings
There should be a rear entry that opens up the full height of the pet area. This not only makes it convenient to get your cat in and out of the stroller but also, if the need arises, to get your cat out quickly when your pushing the stroller.
The front viewing area should open up to not only allow access to your cat from the front but also give you the option of opening up the stroller to offer your cat a more open air experience.
Harness Attachments
If you do open up the front viewing area for that more open air experience, you may want to make sure your cat doesn't jump out and run off. A good way to do that is to put a cat harness on your cat and attach it to the inside of the stroller.
Lockable Wheels
You don't want the stroller to start rolling on its own when you're not pushing it. You should be able to use your foot or some other simple method to lock the wheels when needed.
Storage Area
There may be things you want to bring along with you when you use the stroller. If so, there should be adequate storage underneath the pet area.
Easy To Clean
You'll want to clean out the pet area of the stroller from time-to-time. You can put down a blanket or your own material and just clean and replace that, but if the stroller comes with material for that purpose then it should be removable and washable.
Foldable
If you want to take the stroller with you in a car or you don't have room in your home for it then it should be foldable to transport or store more easily.
Drink Holder
For your own convenience, you may want a drink holder on the handle.
Weight Capacity
30 pounds is standard. Think about not only your cat's weight but what you'll be storing in the stroller. Check weight capacity of the stroller before buying it to be sure it's adequate.
Zipper vs. Zipperless
While most pet strollers use zippers to attach the viewing mesh, some strollers are zipperless. If you want to avoid any problems with zipper issues then you may want to look for a zipperless model.
Jogger Pet Stroller
Whether the low-end pet stroller for walking with your cat will work for jogging depends on your jogging style. If you take it slow and only run on hard smooth surfaces then many strollers might work for you. On the other hand, if you want a faster paced run and/or on a softer or bumpier surface then the low-end strollers may not do it for you. You'll have to go up in price and get a stroller made for jogging and more rugged terrain.
Pet strollers made for jogging have an overall higher quality to them than low-end walking strollers. The frame is more solid and the wheels are larger and better (they may even be air-filled). They're generally three wheel strollers where sometimes the front wheel can be locked to go straight. They may also have some shock absorption built in to handle rough surfaces.
If you know upfront that you'll want to take your cat along with you on jogs or you just want a higher quality stroller that you can use on varied terrain then you may not want to bother with a low-end walking stroller in the first place, just use the jogger for everything.
---
---